Was browsing the interwebs and came across this interesting question about using speed rings (washers) on the outside of your bearings with a spacer so you can tighten the axle nuts fully and still have a completely free moving bearing. Seems like a smart idea... (backed up by some mechanical engineers...)
I've been a longboarder for a while now. I used to do downhill and mostly just cruise now. Two things that were always considered necessary were spacers and speed rings. The spacers go inside wheels between the bearings and allow the axle nuts to be tightened without causing excess wear on the bearings and without causing drag that will slow you down. The spacers are sized so that they only make contact with the center shaft of the bearing.
Speed rings are just little washers that go on the axles on the outside of the bearings and serve much of the same purpose. Used together, these allow you to tighten down those axle nuts real well and still have free spinning wheels. I have told this to almost every skater in our league, and I don't think a single one has believed me. You don't have to find that "sweet spot" when tightening those nuts where it doesn't cause your wheel to drag yet keeps your axle nut from flying off.
The whole assembly looks like this.[1]
So, I have to ask. Am I the only one who has been doing this?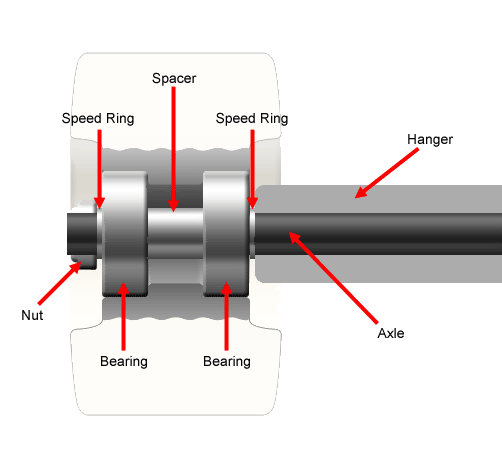 http://www.reddit.com/r/rollerderby/comments/1c2fxf/spacers_and_speed_rings_am_i_the_only_one_using/